Nia is quite simply the very best thing I've ever done for my body. Nia is a body-mind fitness program based on the Pleasure Principle: If it feels good keep doing it, if it hurts, stop!
Nia is a dance based fitness program done barefoot to music. It is perfect for people who love to dance and people who have never danced in their lives. Nia pumps your heart, lubricates your joints, releases tension, enhances balance and tones your muscles with creative movement, mindful awareness and joyful spirit.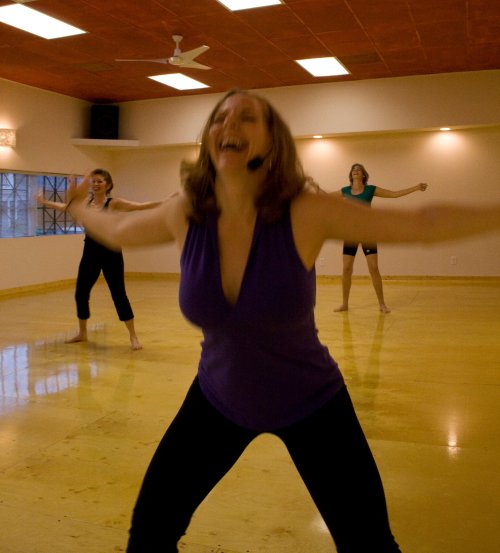 Nia provides three levels of intensity in every movement, a wide variety in range of motion and endless user-friendly choreographed movement choices. It is readily adaptable to fit the needs of all fitness levels - from people who have never exercised before to professional athletes. You get to choose: Do you want to leave class drenched in sweat or glistening with a light sheen?
Nia combines the grace and spontaneity of modern and ethnic dance, the dynamic poses of yoga, the explosive power of martial arts, and the stillness of tai chi to create a whole new sense of well being in your body. The use of eclectic music, guided imagery, powerful kinesthetic cues and heart-felt joy add to the full experience of a Nia class.
A Nia class is formatted like a traditional exercise class, including a warm up, a cardiovascular component and a floor-play or cool-down portion. Nia is safe for all ages and all body shapes. Within each class you'll find a different intention and focus, utilizing various styles of music - such as reggae, jazz, classical, world beat and Celtic to create a fun, energetic environment.
Benefits of Nia
Cardiovascular Conditioning


Flexibility


Mobility


Agility


Stability


Strength


Balance


Stress Reduction


Endurance


Relaxation


Fun